The home barista
5 winter drinks to make at home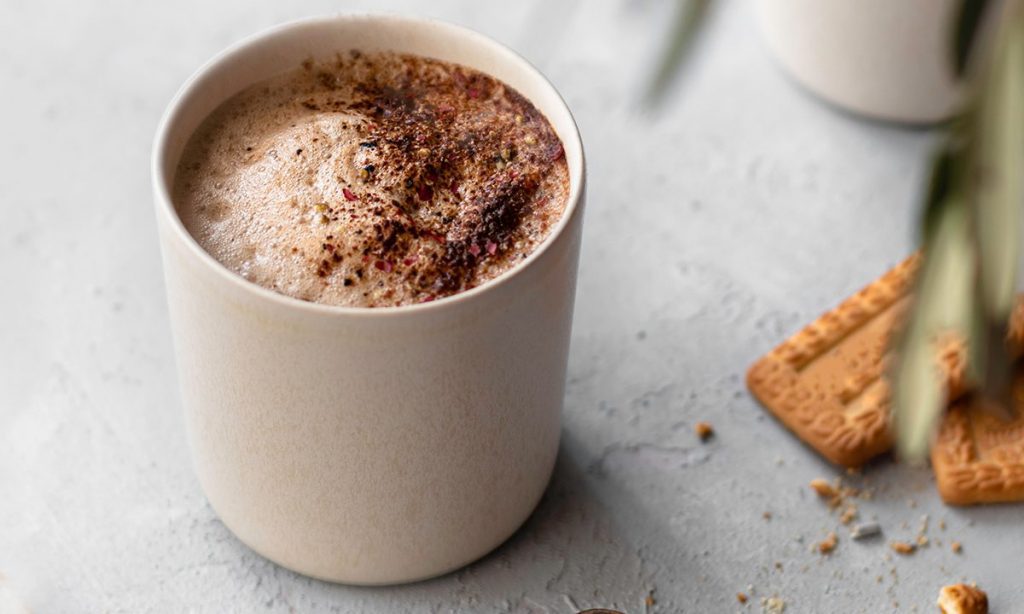 During wintertime, there is nothing better than enjoying a hot beverage on the sofa, with a good movie and your loved ones. So, why not to give a twist to your usual coffee? Chocolate, spices, cream: a few sweet additions can really make a difference in these cold days. Take your time and test new flavors and tasty combinations. You will need a Gaggia machine and, of course, enthusiasm! Here below you can find five recipes ready to be tried, coming from the US, India and Italy. Moreover, for some of them, you can even use vegetable milk. Let's start!
Caramel Latte
This drink is a luscious alternative to a classic latte macchiato. It combines the strong coffee aroma with the deliciousness of caramel.
The ingredients for a person are 125 ml (half a cup) of milk (if using a vegetable option, we suggest soy milk, as it is creamier), 1 cup of espresso, sugar and water (to make caramel), and vanilla extract.
How to make it? Let's begin with preparing the caramel. In the US, where this drink has been invented, it is common to find packed caramel sauce. If you are willing to make it on your own, use these proportions: 350 grams of sugar and 150 grams of water. In a pan, put sugar first and then water, little by little. Cook it at medium heat and stir with a steel spoon. When water evaporates, sugar caramelizes and becomes darker. Keep stirring and turn the heat off to avoid burning.
Now, it's time to froth the milk. If you have a Gaggia manual machine, or a fully auto machine with a pannarello or steam wand, fill a jug with milk and start to dispense steam to froth it. Then, pour it into a tall glass. If you are using a fully auto with "milk froth" in the beverages menu, choose the option and dispense it into a tall glass.
Right after that, prepare an espresso. Pour some caramel sauce all over the milk, a little vanilla extract and then add the espresso to your drink. Give it a gentle stir and enjoy!
Chai Coffee Latte
The Chai Coffee is a modern alternative to the ancient Chai tea, also called "Masala Chai", a special Indian tea flavored with spices. "Masala", in fact, means "spices mix" and "chai" stands for "tea". The Chai Coffee Latte blends the unique taste of coffee with marvelous Indian spices, and a touch of milk to sweeten the flavor.
Let's see how to make it. The ingredients for two cups are: 2 espressos, 250 ml (1 cup) of milk (if vegetable milk, we suggest almond or coconut), 2 teaspoons of brown sugar (try Muscovado or Panela), and the spices.
First of all, brew the two espressos with your Gaggia machine. Drop them when they are still hot into a small bowl and mix with sugar and spices. Cover with aluminum foil or with a lid and let the coffee rest for two or three minutes. In the meantime, froth milk as you usually do with your machine. Now, in a tall glass, pour the coffee (filtered, removing the spices), and then the hot milk, with its creamy froth on top.
Barbajada milanese
Barbajada is a delicious drink, originally from the city of Milan, Italy. It used to be very famous at the beginning of 19th century until the 30's. Its name comes from its inventor, Domenico Barbaja. He was a barista, then an impresario and founder of Caffè dei Virtuosi, a coffee bar next to Teatro alla Scala, in Milan. How to replicate this delightful drink?
For two people, you need 2 teaspoons of unsweetened cocoa powder, 200 ml of cold milk (almost 1 cup, or you can use half a cup of milk and half of water), 2 espressos made with your Gaggia machine, and sugar to taste. Let's start with making the hot chocolate by mixing, in a little pot, cocoa powder and milk. Stir gently on a medium heat, then add sugar and bring the mix to the boil. As soon as the chocolate becomes dense, remove it from the heat and add the two espressos, brewed with your Gaggia machine. In a version of this recipe, there is an addition of liquid cream. If you would like to use it, add it now (in the same quantity of the coffee you have used). Bring the pot back on the stove and stir well. Stop when you see a bit of foam on top. Turn the heat off and serve immediately. We suggest to enjoy it with your favorite biscuits and cakes.
Espresso Tiramisù
Tiramisù is a true Italian classic. If you love it – we do! – you cannot say no to this lovely drink. It is a classic espresso, enriched with a luscious mascarpone cream. We bet your mouths are watering already, so let's begin!
Start by preparing the cream, as it will need to rest in the fridge for at least three hours. You will need 250 gr of mascarpone cheese, two tablespoons of caster sugar, two pasteurized eggs, a splash of Marsala wine or whiskey, cocoa powder. Separate the egg yolks from the whites. Whisk well the yolks together with sugar. In another bowl, whip the egg whites. Now, add the mascarpone cream with the egg yolks and sugar mixture. Then, carefully add the egg whites with a spatula. Pour a splash of Marsala wine in, and mix gently. You should have a soft and thick cream. Let it rest in the fridge.
When it is time to serve, pour a bit of the cream into a cup. Place a piece of ladyfinger (in Italy it is called "savoiardo") on top of the cream, and cover again with a bit of cream. Sprinkle with cocoa powder. Now, the best part: place your cup under the coffee spouts or under the filter-holder of your machine, and brew the espresso in it! Pure happiness!
Macchiatone
"A bit more of an espresso macchiato, but less than a cappuccino". The Macchiatone was invented in Venice during the 80's and 90's of the 20th Century. Then, it became popular also in other regions of Italy.
It is made with an espresso, to which the barista adds hot steamed milk. It is served into a cappuccino cup, but with way less milk. Let's see together how to replicate it at home.
With a manual machine, or a fully auto with pannarello or steam wand, start by frothing milk in a jug, as you usually do. If you own a fully auto with a milk carafe, the CAPPinCUP or the auto-cappuccinatore, dispense milk froth into a tall cup or glass. Then, brew the espresso in a cappuccino cup. Now, add around 20 ml of steamed milk. Super simple! It is the perfect compromise between an espresso macchiato and the cappuccino. Best if served with a side of cookies or other sweet treats.
Your Gaggia espresso machine, no matter if it is manual or automatic, is the ideal companion to make these tasty drinks at home. You will turn your breakfast or coffee break into a precious and delightful moment, even better if enjoyed with your loved ones. Try them all, and let us know!
This site is registered on
wpml.org
as a development site.