The Home Barista Cooks - Recipes
Cook with us: the stollen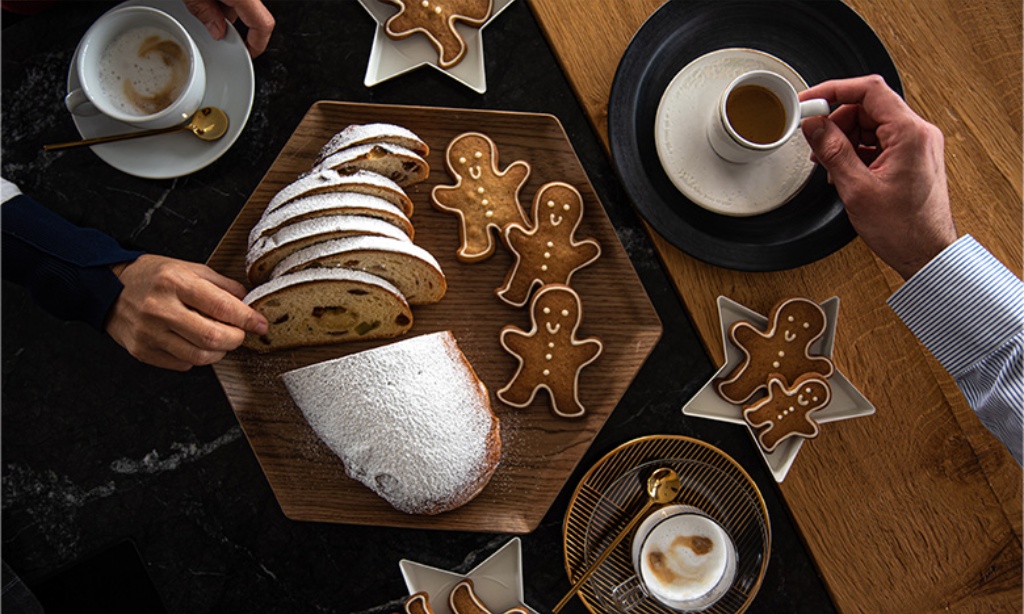 Winter holidays are the right time to stay together with our family and friends, to enjoy cozy moments at home, surrounded by our loved ones. During these days, we can relax, watch movies or cartoons, play cards or board games and it is a nice occasion to cook something together.
There are recipes that represent Christmas and its festive and warm atmosphere more than others. One is, with no doubts, the stollen, a German cake with marzipan (made with almond flour, egg white and icing sugar), raisins and orange zest, with its wonderful scent and tasty flavor.
Currently, there are many versions of this cake, influenced and modified over the centuries, but the following recipe seems to be the ancient one. Are you ready?
The story
The stollen was mentioned for the first time many years ago, in 1474: a description of it can be found in a fiscal document coming from an hospital in Dresden.
This cake has been associated with Christmas time since 1329, but, considering that during advent people used to practice fasting, it was originally prepared with no butter.
It was the Prince of Saxony to ask the Pope if Dresden patissiers could add butter to the stollen dough. Unfortunately, the Pope denied the proposal, and butter was added to the preparation only at the end of that century.
Over the years, the recipe has been changed so many times that the legend says that every family has its own.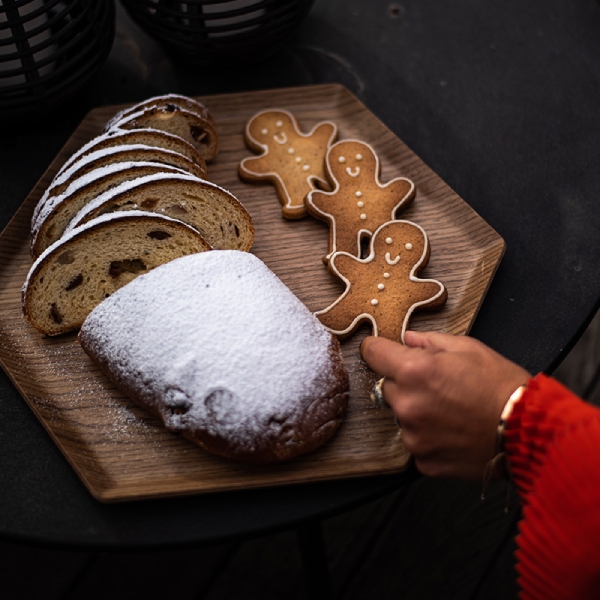 How to prepare it
The stollen requires an easy-making but long process, as there are proofing times. Here's the list of what you need to prepare it:
• 2 cups+ 3 tbs (350 gr) Manitoba flour • 1 egg • 1/2 cup (125 ml) whole milk • 1 tsp salt • 3/4 cup + 1 tbs (175 gr) butter • 1/2 cup (100 gr) caster sugar • 1/2 cup (75 gr) raisins • 1/2 cup (75 gr) organic orange zest • a handful of chopped almonds • 2/5 (100 gr) marzipan • 1 tsp (4 gr) dried yeast • 2 tbsp + 2 tsp (25 gr) icing sugar.
1. Mix flour, yeast and the egg and combine until you get a firm dough. Now, add sugar, and then salt. Once combined, add butter – but only ½ cup + 3 tbsp of the entire amount you have reserved for the recipe.
2. Keep kneading to mix the ingredients well. The dough should not be sticky.
3. Once the dough is firm, add the raisins – that you have previously softned in lukewarm water, then squeezed to remove excess water – orange zest and chopped almonds.
4. Let your dough rest in a big bowl, covered with a clean cloth or film (touching the surface of the dough). This is the first proofing time and it should last about three hours (but the time requested could vary depending on the temperature in the room).
5. Roll the dough in a rectangle and place on it the marzipan cylinder, vertically. Roll on itself and shape in an oval, that should resemble a bread loaf.
6. Let it rest again, until it doubles its size. This is the second proofing time. Now, cook at 75 F for 40/45 minutes.
7. Once cooled down, brush with the melted butter you kept aside, and then sprinkle it with icing sugar to cover all the surface.
How to taste it
We suggest to serve it at room temperature, cut in not too thin slices (so you can better taste all the flavours) and enjoy it with a flat white, a latte macchiato or a cappuccino sprinkled with ground cinnamon. Happy Holidays!
Photos by Gaia Menchicchi | Recipe by Diletta Maria Secco
This site is registered on
wpml.org
as a development site.