Truly Italian in the world
Truly Italian in the world : Paris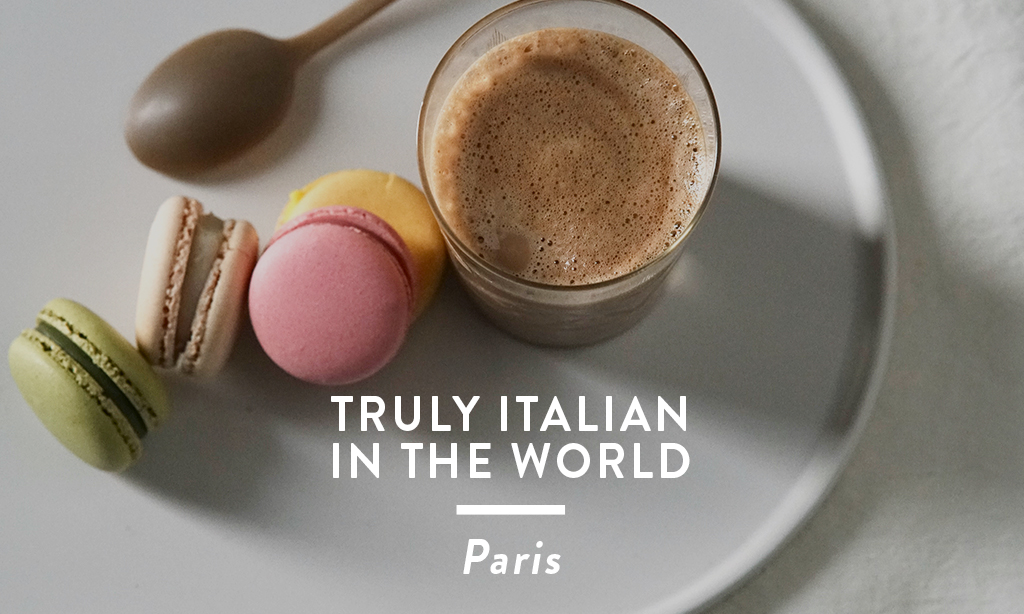 In the heart of Europe stands Paris, a cradle of art, history and beauty, the city of love, the city of lights. A place where elegance and refined lifestyle are intertwined with the traditions and daily habits of its inhabitants.
Among the various customs that characterize Parisian life, we can certainly include the consumption of coffee and its variants.
The Art of Coffee
The coffee culture in Paris is deep and rooted. From the first rays of the morning sun, the local cafés and brasseries are filled with Parisians and tourists eager to start the day with a good coffee. The characteristic wicker chairs lined up on the sidewalks, with tables that almost seem to dance to the rhythm of the city, create a unique and inviting atmosphere.
In Paris, coffee is considered a ritual, a moment of break from the frenzy of the city. What is most appreciated is the sensorial experience of coffee: its enveloping aroma, the golden cream that forms on the surface and the intense taste that awakens the senses.
Sociality and Conviviality
The cafés are crowded with people reading the newspaper, writing, conversing or simply watching the world go by, like good flâneurs.
Parisians and tourists love to meet, to discuss cultural and artistic topics and to share the latest news from everyday life. Rooms and apartments become places of meeting and exchange, where conversations can last hours and where new friendships can
blossom.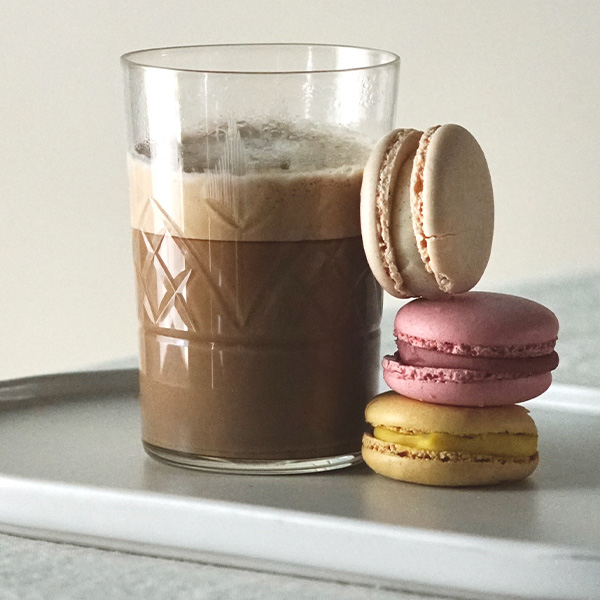 The Perfect Pair
Among the delights that accompany coffee in Paris, macarons deserve a special mention. These small, colorful and light desserts have become a French iconic recipe, now known internationally.
Often presented in the most diverse flavors, from the classic ones, such as vanilla and chocolate, to fruit-based variations, macarons are the perfect
choice for those who want to satisfy their desire for sweetness while sipping coffee.
Not just any coffee, but, to be precise a café au lait.
This drink is a combination of espresso and milk: a balanced blend between the intensity of the coffee and the creaminess of the milk, without foam (unlike a cappuccino). Café au lait is often served in a large cup, and can be enjoyed both in the morning and during afternoon breaks. It is a popular choice among those who want a drink with a less intense flavor than espresso, but still full of taste.
With a Gaggia machine it is possible to prepare a cafè au lait as per tradition, ready to serve to friends with an assortment of macarons, and create a coffee moment truly not to be missed.
With some super-automatic machines – such as Gaggia Cadorna Prestige and Milk, Magenta Prestige and Milk, and the brand new Accademia – it is even possible to find this drink preset in the menu. One click, and it's ready!
To accompany this coffee experience, we share with you the recipe for classic French macarons, by Livia Sala.
HOW TO MAKE MACARONS
Ingredients
For the shells:
– 70 g almond flour
– 50 g room temperature egg whites
– 25 g caster sugar
– 90 g icing sugar
– your favourite food coloring
For the fillings:
– 100 g of white chocolate
– 100 ml of liquid cream / single cream
– 10 g of pistachio paste and 10 g of hazelnut paste
– 90 g of icing sugar
– 115 g soft butter
– 1 tablespoon of mango purée e 1 tablespoon of raspberries purée
How to make shells:
1. Distribute the almond flour on a baking tray and place it in the oven for about 10 minutes at 100 °C. Then, let it cool
2. Mix almond flour with icing sugar and grind them in a mixer until you obtain a fine powder. Sift it.
3. To prepare the merengue, whisk the egg whites at a low speed for a few minutes. When they become fluffy, add sugar and keep whisking (increase the speed gradually).
4. Add the food coloring to the whipped egg whites, then add the ground almond flour + sugar with a spatula, with bottom to top movements
5 . Put the mixture into a sac-à-poche and shape the macarons on a baking tray covered with parchment paper. Let them rest for half an hour.
6. Cook the macarons for 15 minutes in a pre-heated oven at 150 °C. Let them cool and then transfer them to a grid.
How to make the ganache fillings
1. Chop the white chocolate and melt it.
2. Add the liquid cream you have slightly warmed
3. Divide the mixture in two bowls. Add pistachio paste to one and hazelnut paste to the other one. Stir.
4. Let them cool down for a few minutes.
How to make the fruit fillings:
1. Combine butter with icing sugar until you obtain a fluffy mixture.
2. Divide the mix into two bowls. Add mango purée to one, and raspberries purée in the other one. Stir.
Now, fill the macarons with the ganache and fruit fillings, as you prefer, and serve to
your guests with café au lait, or other beverages you like.
This site is registered on
wpml.org
as a development site.